Boracay definitely felt the heat on  Saturday night, April 26, when Sara Polverini and Mauro Lumba were named the winners of this year's Century Tuna Superbods titles at the Pearl of the Pacific Hotel in Boracay.
Along with the title of Superbods 2014, Sara and Mauro each received P500,000, a year-round supply of Century Tuna and other prizes from major sponsors.
First runners-up were Marneil Anthony Lim and Alaiza Malinao,
Catherine Almirante and Laurens Tolenaars placed second runner-up.
Special Awards were also given to the following:
Beach Bodies: Laurens Tolenaars and Paula Marciano
People's Choice: Diane Tan and Mauro Lumba
Congeniality: Marneil Lim and Grace Murillo
Transformation Award – Miguel Lasala and Darlene Anderson
Superbod Race Winners: Miguel Lasala and Paula Marciano
Photogenic: Miguel Lasala and Alaiza Malinao.
The Big Reveal
Aside from the awarding, the most anticipated part of the event was the "big reveal" of the boys who accepted the 42-day challenge.
These dudes followed the diet and exercise program prepared by Nadine and Jim, which is similar to what the candidate followed.
First off are the hosts of the radio program Boys Night Out: Slick Rick, Tony Toni, and Sam YG.
They were so proud of their improvements that they gave in to the people's cheer of taking off their shirts
But the night wouldn't have been complete without Century Tuna's ambassador Anne Curtis-Smith walking the ramp wearing a high-slit resort dress.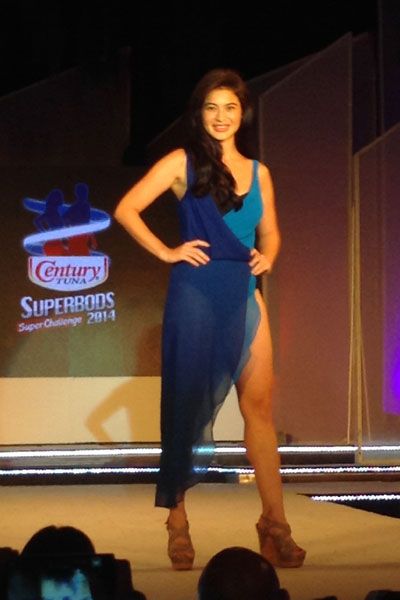 She was even given the task to introduce him to the crowd as officially part of  the Century Tuna's Family
People were excited to see how John Lloyd Cruz improved since the 42-days challenge, and he didn't disappoint when he came out on the stage.
Greeting and waving to the crowd was a fitter and healthier John Lloyd, his own goal for his 30th birthday. Of course we all wanted him to go all the wayand take his shirt off but sadly we would have to wait as he wasn't ready to do it just yet.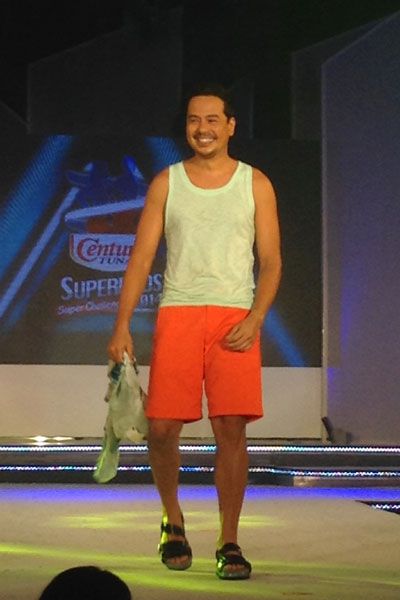 It was nice to see them onstage and chatting like old friends. Its nice that she made him feel at ease.